As a manager, you can view your profile at any time by clicking on "My Account" in the main navigation.
View your job description by selecting on your job title below your name.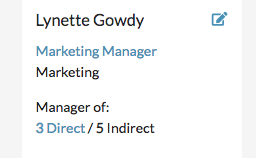 Your Job description will open in a new tab and it can be printed or saved as a PDF. In it you will find how you will be measured in your reviews. It will call out both your specific job results and your company's core values, each with a weighted percentage. For more information on job descriptions, click here. 
You can edit your profile by clicking on the pencil icon next to your name.
Here, you can change your password, your photo, and other contact information. Just make sure you select "Save Changes" when you are finished.