Results criteria for reviews are accessible within each specific job description.
As an admin user, to edit or create the results criteria in which an employee will be measured, go to the specific job description and select the "Review Criteria" tab towards the middle of the page. The "Review Criteria" tab allows you to set the results that employees within this job will be measured against in their reviews.
Each Criteria Title has a weighted percentage associated with it that you can adjust as you see fit. Just make sure all "Review Criteria" total to 100%. You can add or remove both Criteria sections and components.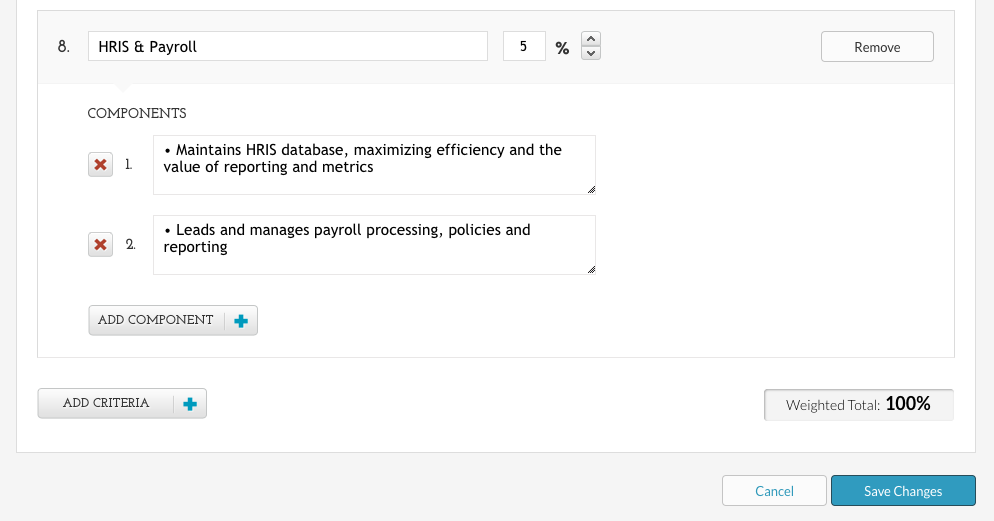 Remove a criteria section by selecting the "Remove" button to the right. You can add a criteria section by selecting "Add Criteria" at the bottom of the page.
The components are the actual items that the employee will be scored on during their review. You can remove a component by selecting the red "x" next to it. Or add a component by selecting the "Add Component" button at the bottom of each criteria section.
These criteria will show up on every employee's review under the results score section. See an example of the review form and scoring below: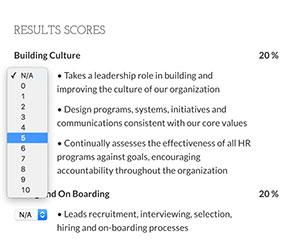 The Review Criteria and each component will also show up as "Key Responsibilities" on the printed Job Description, ensuring each employee's Job Description and Review documents are consistent.
See an example of the printed job description below:
How an employee scores against the results criteria will impact where they appear on the horizontal axis of the Threads graph.