As an admin user, go to "Employees" in the main navigation and select "All Employees". Once there, select the blue button called "Add New". 

The "Create Profile" form will open.
If the job description does not exist, please review the article for "Create a Job Description" before proceeding. 
Job Description: If the job description already exists, select the job description (the department will be shown in parenthesis). If you want to just see vacant jobs (open positions on your org chart), then select the check box to "only show vacant jobs". 
Manager: Assign a manager that this individual will be reporting to. If the manager does not appear in the drop down, they either need to be made a manager within Threads (Edit their profile and change their permission level to "Manager") or they need to be added to Threads first. If the person you are adding is to be at the top of your org chart, select "none".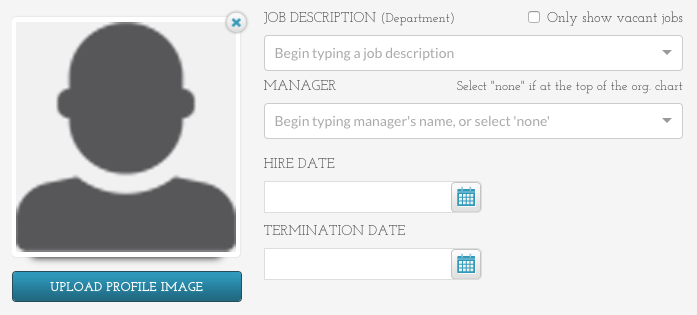 Fill out the rest of the create profile form by inputting at a minimum the required fields.
At the bottom of the form, you must assign a user permission level.
Administrator - This is reserved for admins of your company. It gives the user full access to company settings, employee reviews, user profiles, org chart editing ability, adding / removing employees, applicants, seeing all comments (*except for feedback left for themselves), and everything you are able to do yourself since you are an admin within Threads. 
*If there is only one admin at your org and do NOT have a manager, then your feedback received will be visible to that admin.
Manager - They can see full employee profiles, reviews and comments for only those that report to them (underneath them on the org chart). They will also be notified for any reviews assigned to them to complete. 
Employee - They can see their own profile and view the org chart. They cannot edit anything other than his or her own personnel documents. 
You can also opt in to send the welcome email at this point by selecting "Send Welcome Email." This will email the new user a link to set their password for the first time. 
When you are complete, select "Save Changes" and you will be prompted to create an initial review for the new employee. 
After selecting "Create Review", the Create Review modal will populate based on your review cycle settings under company settings.
After creating the review you will receive a success message in which you can go straight to that review by selecting "Take Me To It" or you can view the new employee profile by just closing the success message.